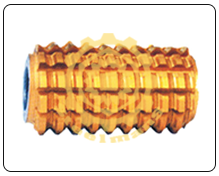 Straight Spline Hobs
Straight Spline Hobs are used for cutting parallel splines. These are manufactured with or without lugs, semi-topping and shoulder clearance types in Class 'AA' & 'A'.
We have picked up ability in offering a better quality scope of Spline Hobs than the regarded clients. Offered at industry driving costs, these Spline Hobs are composed and in addition made in consistence with the universal quality gauges. What's more, we make a point to give these Spline Hobs to the clients in standard and in addition redid bundling. Straight Sided or Parallel Sided Hobs and Involute Spline Hobs are provided for creating parallel or rakish splines, straight or helical splines with profile alterations like semi topping, undermining, bear leeway, and so on.
We are one of the famous names of the market occupied with offering better quality Straight Spline Hobs than the clients. These items are broadly utilized for straight and involute splines. In addition, we make accessible these Straight Spline Hobs to the customers in different tweaked sizes and outlines. With the assistance of our wide circulation organize, we guarantee that the requested committals are convenient conveyed at the customers' end.
Determinations:

Offered according to DIN 5480, 5481 and 5482, NFE 22 141, ANSI B92.1.
Straight Sided Spline Hobs and Involute Spline Hobs accessible.
Parallel Spline Hobs with or without hauls.
Semi-garnish and shoulder leeway For control take off shafts-DIN 9611.