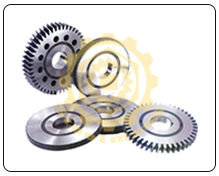 Gear Shaving Cutters
These HSS cutters are supplied in conventional type, diagonal, plunge cut with a wide range of sizes according to the customer requirement.
Cutters are designed with profiles to incorporate them with tip relief, depth crowning, lead crowning etc., on component.
Shaving cutters are utilized for completing in a little measure of rigging tooth surface in the wake of handling with hob and shaper cutter. Among the four sorts of preparing (1. Regular, 2. Askew, 3. Underpass, 4. Dive cut), dive cut is most famously connected underway line of 4 wheel vehicles and 2 wheel vehicles intend for its productivity and long life.
Our lineup in Super Coat Shaving Cutter, Fine Pitch Shaving Cutter has shown prevalent change in instrument life and work piece teeth accuracy.
Sorts of shaving cutters
Transverse
Corner to corner
Underpass
Dive
Inside/outside shaving
Unground or finished shaving cutters
Measurements
Module 0,8 – 10 mm*
Max. width 65 mm
Outside measurement 70 – 330 mm
Materials
It is conceivable to look over changed customary HSS or powder steels.
M2
ASP 2030
Highlight
Surface hardness at 1.5 times the rapid steel material and high scraped spot resistance.
Solidifying layer: 0.1 to 0.2 mm. Basically, surface condition is same as others.
Change of size is kept at least, avoiding unevenness of serration profundity.
Administration:
As one of the biggest makers of cutting devices worldwide and with specific aptitude in shaving innovation, we offer an extensive variety of shaving cutters. Sorts of shaving cutters Transverse Diagonal Underpass Plunge Internal/outside shaving Unground or got done with shaving cutters All apparatuses are provided with review and lead test diagrams Dimensions Module 0,8 – 10 mm* Max. width 65 mm Outside distance across 70 – 330 mm Materials It is conceivable to browse distinctive traditional HSS or powder steels.