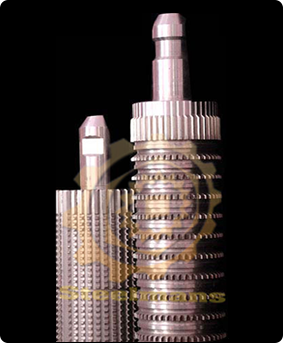 Bull Gear

Differential Lock Clutch Centre
Fly Sprocket Wheel Ratchet Components

Front Axle Parts

Internal Gear

Lift Arm

Lift Arm

Flange
Spline Broaches
Steelmans offers quick conveyance on accuracy ground spline rotating suggest devices. Spline and involute spline rotating suggest shapes are prominent structures utilized for associating driven parts in machines and vehicles. Ordinary illustrations would incorporate apparatus shifters on cruisers and clips for motor shafts. Standard splines control transmission by the way contact is composed into the teeth.
Spline turning suggests instruments can be made to worldwide measures or hand crafted to your particulars. In any case, most are made to the client's predefined measurements. Because of the wide assortment of resistances, tooth width and custom components, Steelmans can't stock standard spline broaches. Oversize pilot openings are required for all spline frame turning introducing applications. The pilot gap will leave a little sweep at within corners. This span is frequently satisfactory in light of the fact that contact is as yet made at the outside of the frame.
Because of assembling impediments, there is a little range on the suggest at within corner of spline teeth. In any case, this sweep can't be found in the completed item in light of the fact that the curiously large pilot opening breadth evacuates part material here. The curiously large pilot opening is basic to making isolated chips while suggesting and lessening the weight required to cut the frame.
Involute, Straight, Serration Broaches
A complete range of Spline-Involute, Parallel and Trapezoidal, Serrations, Ratchet, broaches specially designed to suit the component specifications. Available in push or pull type desigh. We regularly manufacturer spline broaches for precision-made Steering Knuckle Arm, Constant Mesh Gear, Front Axle, Lift Arm, Depth Control Cap, Bull Gear, Differential Lock Clutch centre and Fly/Sprocket Wheel Ratchet components.
Complete range of Spline Broaches
Involute Spline
Straight Spline
Calibration Spline Broach
Serrations
Serration Drifts
Parallel and Trapezoidal
Ratchet